November 12 | Weekly Announcement
Posted: Nov 12, 2020
Download Swansea Weekly News Nov 12 | Descargue el Anuncios de Swansea 12 de Noviembre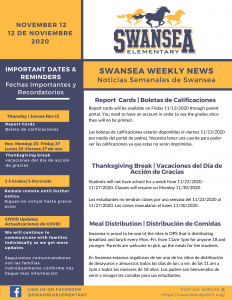 Dear Swansea families,
 The Swansea Weekly News will be going out every Thursday with information about upcoming events, reminders, resources, district wide information, etc. Please read below or the attachment flyer on this email to find out more about what is happening at our school weekly.
Report Cards/ Boletas de calificaciones
Report cards will be available on Friday 11/13/2020 through parent portal. You need to have an account in order to see the grades since they will not be printed.
Las boletas de calificaciones estarán disponibles el Viernes 11/13/2020 por medio del portal de padres. Necesita tener una cuenta para poder ver las calificaciones ya que estas no serán imprimidas.
Los estudiantes no tendrán clases por una semana del 11/23/2020 al 11/27/2020. Las clases reanudaran el lunes 11/30/2020
Meal Distribution/ Distribución de Comidas
Swansea is proud to be one of the sites in DPS that is distributing breakfast and lunch every Mon.-Fri. from 11am-1pm for anyone 18 and younger. Parents are welcome to pick up the meals for the students.
En Swansea estamos orgullosos de ser uno de los sitios de distribución de desayunos y almuerzos todos los días de lun. a vie. de las 11 am a 1pm a todos los menores de 18 años. Los padres son bienvenidos de venir a recoger las comidas para sus estudiantes.
IMPORTANT DATES & REMINDERS Fechas | Importantes y Recordatorios
11/13/2020

: Report Cards |Boleta de Calificaciones

11/23/2020-11/27/2020:

 Thanksgiving Break | Vacaciones de Accion de Gracias

3-5 Grades- 3ro – 5to Grado

: Remain remote until further notice. Seguiran virtual hasta previo aviso.

COVID Updates/Actualizaciones de COVID:  We will continue to communicate with families individually as we get more updates. Seguiremos comunicandonos con las familias individualmente conforme nos llegue mas informacion. 
If you have any questions please call our main office at 720-424-3630.
Thank you,
Swansea Staff