Weekly Announcements | Anuncios Semanales
Posted October 28, 2021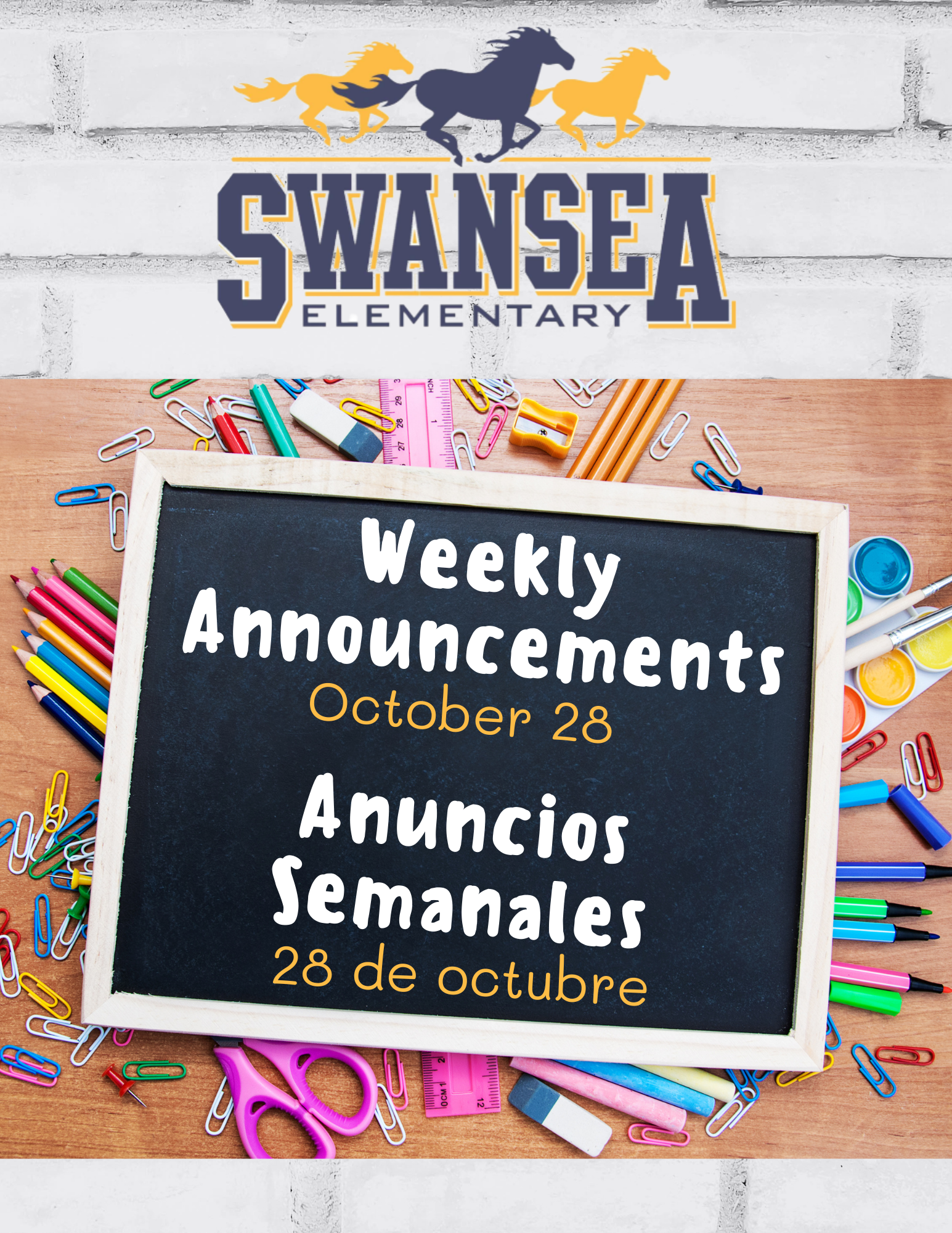 Dear Swansea families,
Here is our Swansea Weekly News:
Halloween at Swansea

Tomorrow Friday October 29th at 4:00 PM come join us and Bruce Randolph on a Trick or Trunk and Trick or treat event.

Virtual Event with Supreme Court Justice Sonia Sotomayor

Join the U.S. Supreme Court Justice Sonia Sotomayor for a discussion of her book "Just Ask! Be Different, Be Brave, Be You." The virtual event is free to attend on Friday November 5th at 4:30 PM. You can register by clicking on this link https://bit.ly/3nBWCMu. Please see the flyer for more information.

Chats with the Principal

Friday November 5th at 8:15 AM in the Swansea Community Room

Swansea Day

No School – Monday November 8th
If you have any questions please call our main office at 720-424-3630.
Thank you,
---
Estimadas familias de Swansea,
Aquí están nuestras Noticias Semanales de Swansea:
Halloween en Swansea

Mañana viernes 29 de octubre a las 4:00 PM acompañenos a nosotros y a Bruce Randolph en el evento de Trick or Trunk (vehículos) y Trick or Treat.

Evento Virtual con la jueza de la Corte Suprema Sonia Sotomayor

Únase a la conversación con la jueza de la corte suprema de los estados unidos, Sonia Sotomayor, para una discusión sobre su nuevo libro "¡Solo Pregunta! Sé diferente, sé valiente, sé tú." El evento virtual es gratis el día 5 de noviembre a las 4:30 PM. Se puede registrar haciendo clic en el enlace https://bit.ly/3nBWCMu. Vea por favor el volante para más información.

Charlas con la directora

Viernes 5 de noviembre a las 8:15 AM en el salón comunitario de Swansea

Dia de Swansea

No hay clases – lunes 8 de noviembre
Si tiene preguntas llame a nuestra oficina principal al 720-424-3630.
Gracias,
Personal de Swansea