Weekly Announcements I Anuncios Semanales
Posted April 14, 2023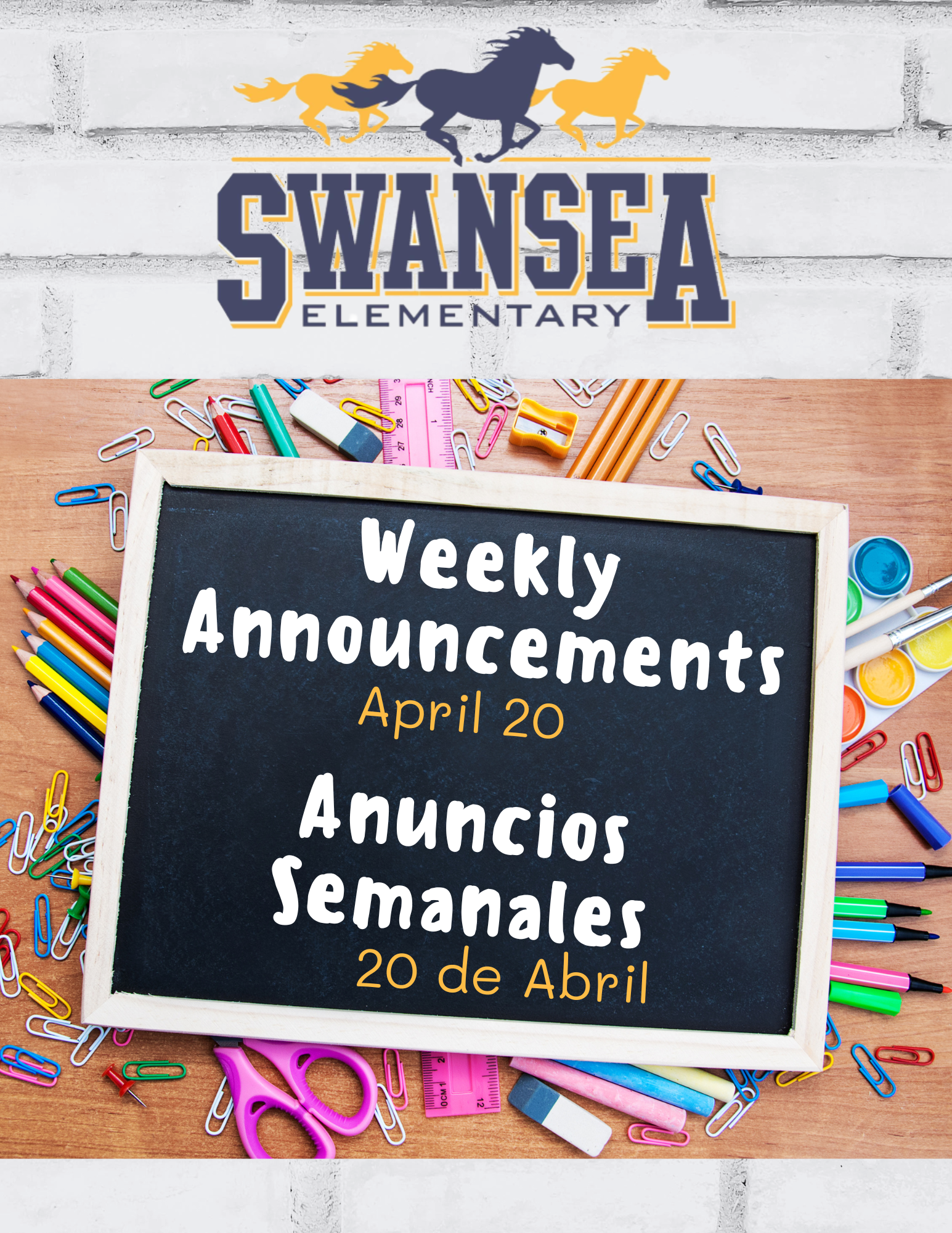 Dear Swansea Families
Here are our Swansea Weekly News:
United for Swansea
Join our United for Swansea meeting
When: April 20, 2023
Time: 8:05am
Swansea drop off hours
Earliest drop off hour 7:45am
Latest pick up hour 3:30pm
Please send students to the blacktop to be directed to the correct location
Save the Date
Carnival – May 6, 2023
Field Day – May 12, 2023
Continuation – ECE- June 1, 2023
Continuation – Kindergarten – June 1, 2023
Continuation – 5th grade – June 1, 2023
Last day of school – June 1, 2023
More information to come as date approches.
Spring Sale
We will be having our Spring sale on April 19, 2023 after school we will be selling
Nachos $2.00
Corn $2.00
Water $1.00
Juices $1.00
---
Estimadas familias de Swansea,
Aqui estan nuestras noticias semanales de Swansea:
Unidos Por Swansea
Acompañenos a la junta de Unidos por Swansea
Cuando: 20 de abril, 2023
Hora: 8:05am
Horario de Entrega en Swansea
Lo mas temprano para dejar los estudiantes 7:45am
Lo mas tarde que pueden quedarse en la escuela es hasta las 3:30pm
Favor de enviar los estudiantes al patio para que los dirijan al lugar correcto.
Reserva el Dia
Carnaval de Swansea sera – 6 de mayo 2023
Dia de deportes- 12 de mayo 2023
Continuacion ECE- 1 de junio 2023
Continuacion 5to grado – 1 de junio 2023
Ultimo dia de escuela – 1 de junio 2023
Mas iformacion sera enviada a casa cuando se aproxima la fecha.
Venta de Primavera
Venta de primavera. 19 de abril 2023. Venderemos
Nachos $2.00
Elote $2.00
Aguas $1.00
Jugos $1.00
Si tiene preguntas llame a nuestra oficina principal al 720-424-3630
Gracias,
Personal de Swansea