Weekly Announcements I Anuncios Semanales
Posted May 17, 2023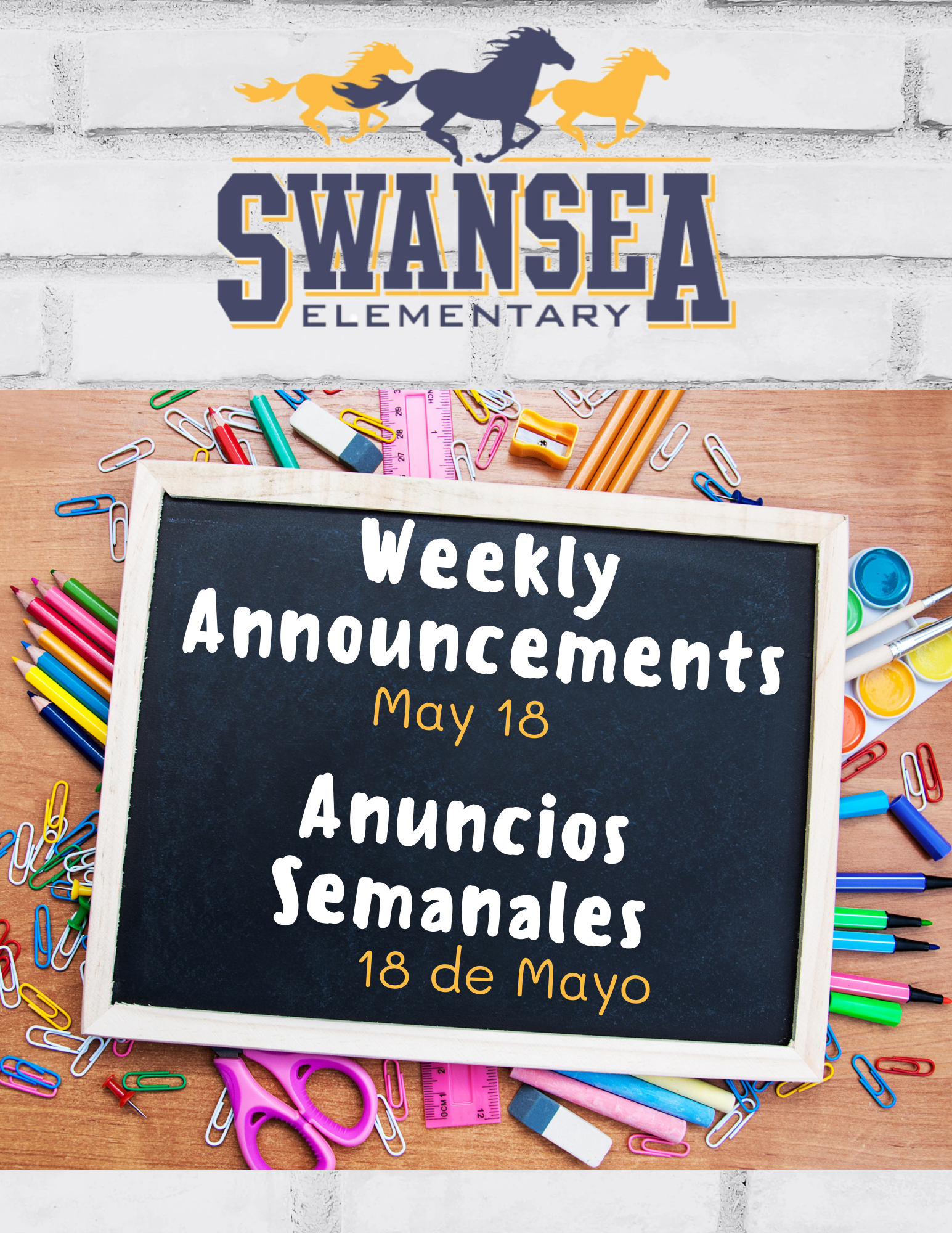 Dear Swansea Families,
Here is our Swansea Weekly News:
Chats with the Principal
Come join us for Chats with the principal
Thursday May 25, 2023
Time: 8:00am – 9:45am
Swansea Book Fair
Buy 1 get 1 freee
May 22nd – 26th
Time: 8:15a.m – 3:15p.m
Library
Valdez Public Library
The summer of Adventure program
First day of registration prize: Friday June 2nd
Last day to register: Saturday, August 5th
Last day for Prizes: Saturday, August 12th
Drop by your local Denver Public Library branch Valdez-Perry Library 4690 Vine st Denver, Co 80216
Visit, summerofadventure.org
Complete 15 READ, MAKE or EXPLORE activities to earn a completion prize. Each participant will be eligible to enter a drawing for passees to cultural institutions and entertainment centers of gift cards to local businesses.
If you have any questions please call our main office 720-424-3630
Thank you,
Swansea Staff
---
Estimadas familias de Swansea,
Aqui estan nuestras noticias semanales de Swansea:
Charlas con la Directora
Acompañenos a la siguente Charlas con al directora
Cuando: 25 de mayo
Hora: 8:15a.m – 9:45a.m
Feria del Libro (Swansea)
Compra 1 y llevate 1 gratis
22 -26 de mayo
Hora: 8:15a.m – 3:15p.m
Biblioteca
Biblioteca Publica Valdez
Programa de las aventuras de Verano
Premio de inscripcion para el primer dia: 2 de junio
Ultimo dia para inscribirse: sabado 5 de agosto
Ultimo dia de premios: sabado12 de agosto
Pase a su sucursal de la biblioteca publica de Denver, Valdez-Perry 4690 Vine st Denver, Co 80216
Visite: summerofadventure.org
Completa 15 actividades que incluyan LEER, CREAR o EXPLORAR y recibiras un premio al final.
Cada participante sera incluido en un sorteo para ganar tarjetas de regalo de negocios locales o pases familiares para instituciones culturales y de entretenimiento.
Si tiene preguntas llame a nuestra oficina principal al 720-424-3630
Gracias,
Personal de Swansea