Weekly Announcements / Anuncios Semanales
Posted September 7, 2023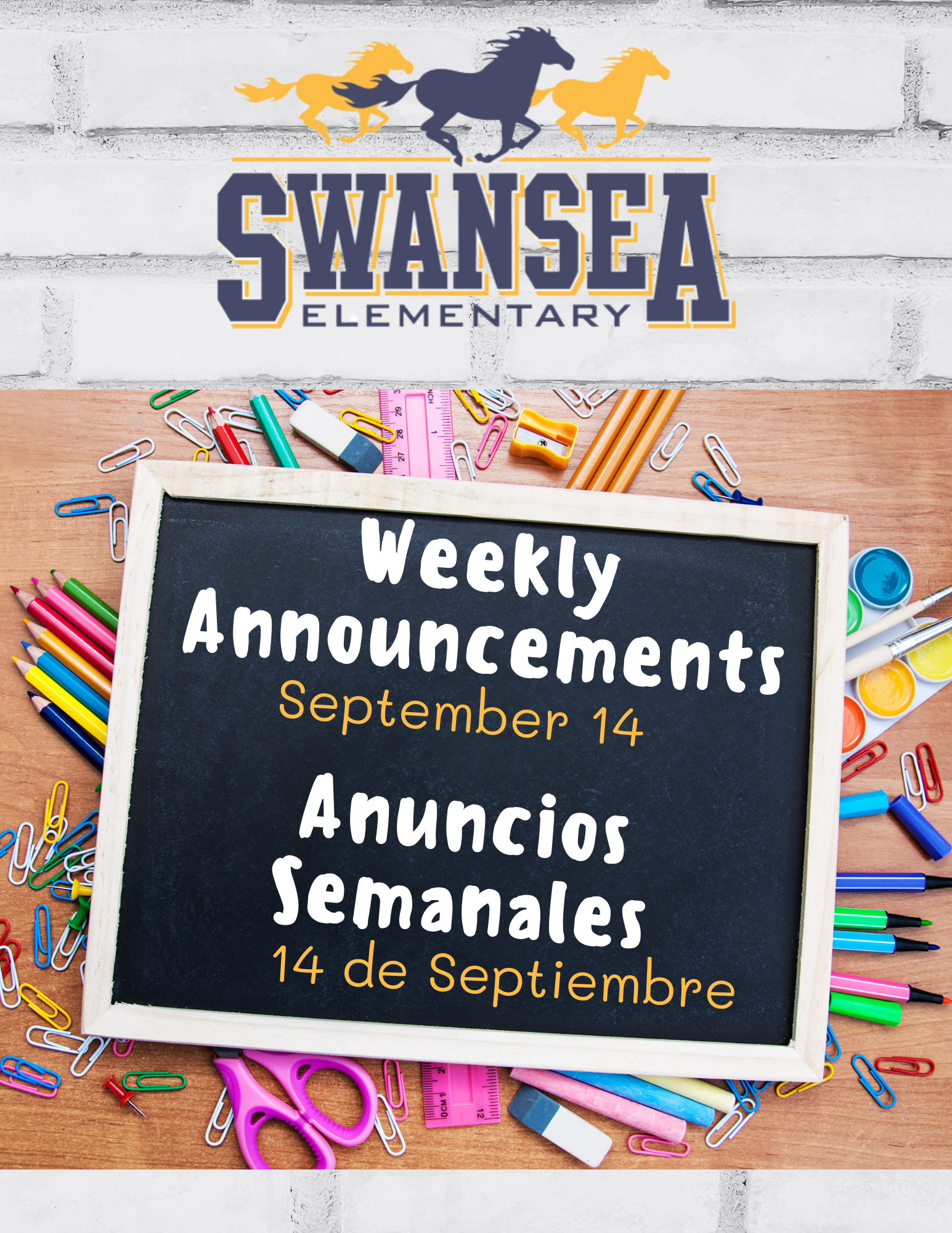 Dear Swansea Families,
Here is our Swansea Weekly News:
Connector
Free Neighborhood Ride Share Service
Search "Denver Connector" in your app store.
720-868-0560
CSC Nomination form 2023-24
Are you interested in serving on the collaborative school committee (CSC) for 2023-24 school year? The CSC helps guide school policy, reviews our budget and calendar, advises on culture and behavior system, and works on our school improvement plan during the academic year. CSC meetings are virtual on Google Meet from 5:00-6:30 pm on the following dates:
October 10, November 14, January 23, February 20, and April 16
We have the following Vacancy:
3 parents
1 member from the community
Please submit this form by Wednesday, September 6 if you would be interested in participating. If we have more nominees than positions, we will hold and election using the information you provide below.
Timeline of Election (if needed)
Letter to all parents with Nominees: September 8, 2023
Online Voting: September 8-12, 2023
Results: September 7, 2023
---
Estimados familias de Swansea,
Aqui estan nuestras noticias semanales de Swansea:
Connector
Servicio Gratuito de Transporte Compartido en el Vecindario
Busca "Denver Connector" en su tienda de aplicaciones o llame
720-868-0560
Formulario de Nominacion del CSC 2023-24
Esta interesado en servir el Comite Escolar Colaborativo (CSC) para el año escolar 2023-24? El CSC ayuda a guiar la politica escolar, revisa nuestro presupuesto y calendario, asesora sobre sistemas de cultura y comportamiento y trabaja en nuestro plan de mejora escolar durante el año academico. Las reuniones del CSC son virtuales en Google Meet de las 5:00 p.m a 6:30 p.m. en las siguientes fechas:
10 de octubre, 14 de noviembre, 23 de enero, 20 de febrero, y 16 de abril
Tenemos las siguientes vacantes:
3 padres
1 miembro de la comunidad
Envie este formulario antes del viernes 30 de septiembre si esta interesado en participar. Si tenemos mas candidatos que puestos, realizaremos una elccion utilizando la informacion que proporcione a continuacion.
Cronologia de la eleccion (si es necesario)
Carta a todos los padres con Nominados: 8 de septiembre de 2023
Votacion en linea: del 8 al 12 de septiembre de 2023
Resultados: 7 de septiembre de 2023
Si tiene preguntas llame a nuestra oficina principal al 720-424-3630
Gracias,
Personal de Swansea