Weekly announcements I Anuncios Semanales
Posted March 2, 2023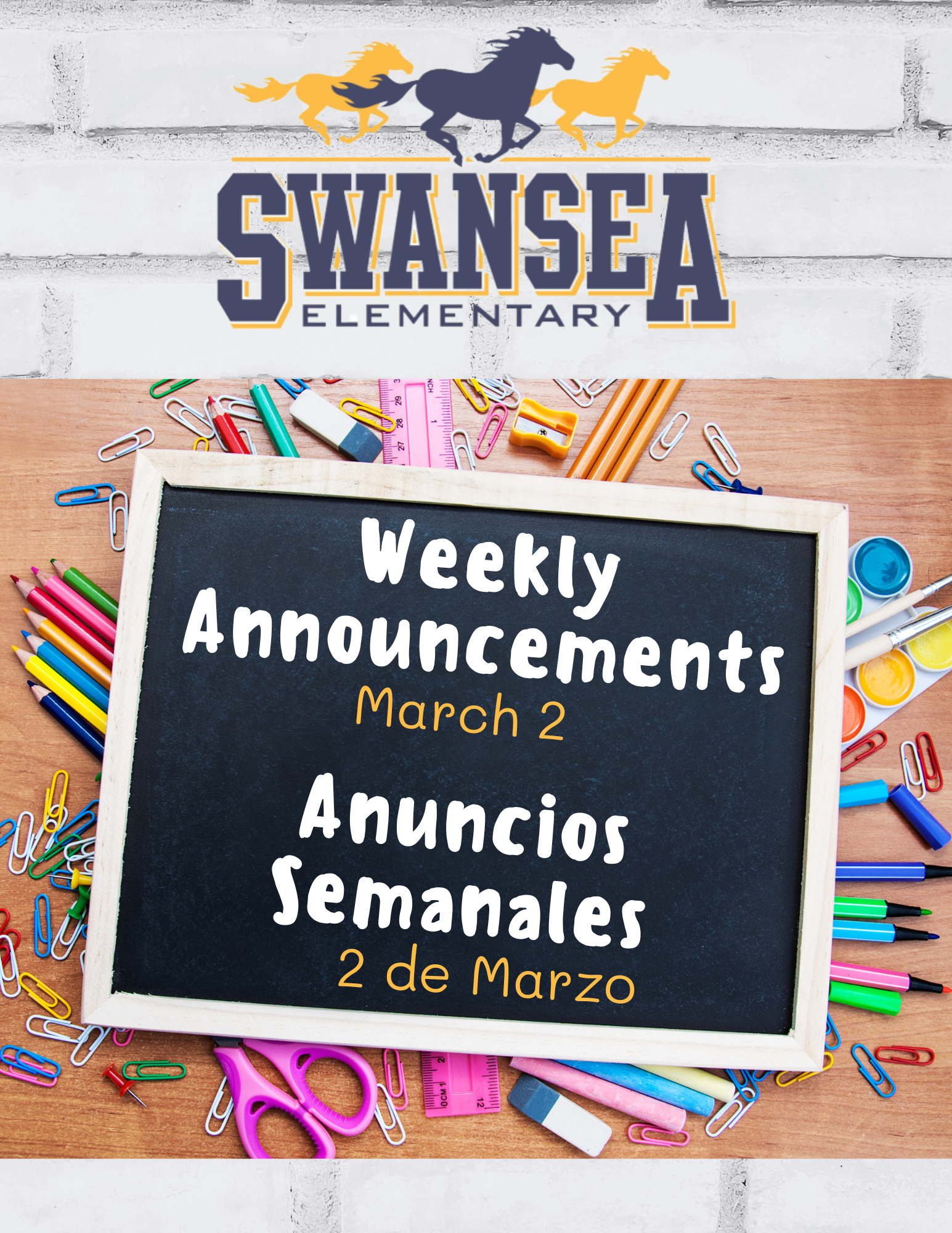 Dear Swansea Families,
Here is our Swansea Weekly News:
United for Swansea
Join us for our next United for Swansea meeting on Tuesday March 7, 2023 from 8:05am to 9:00am
Planning day for Swansea
Friday March 10, 2023
No School
Planning day for Swansea Only
Free Bus passes available
If you need help with transportation, come see Ms. Rose
You must be a resident of the Globeville-Elyria-Swansea community to qualify for passes.
Proof of residency is required.
Colorado Rapids
Reminder: Colorado Rapids -vs- Los Angeles FC
When: Saturday, April 1, 2023 at 7:30pm
Where: Dicks Sporting Goods Park 6000 Victory Way. Commerce City, Co 80022
Tickets are $30. Please bring money to Ms.Rose before Friday March 10,2023 to reserve your tickets.
If you have any questions please call our main office at 720-424-3630
Thank you,
Swansea Staff
---
Estimadas familias de Swansea,
Aqui estan nuestras Noticias Semanales de Swansea:
Unidos por Swansea
Acompañenos a la siguente reunion de Unidos por Swansea
El Viernes 10 de Marzo, 2023 a las 8:05am – 9:00am
Dia de Planificacion de Swansea
Viernes 10 de Marzo 2023
No habra clases
Planificacion para Swansea Solamente
Pases de Autobus Gratuitos disponibles
Si necesita ayuda con el transporte, venga a ver a la Sra. Rosa.
Deben ser residente de la comunidad de Globeville-Elyria-Swansea, para calificar para los pases.
Se requiere prueba de residencia.
Colorado Rapids
Recordatorio: Colorado Rapids – vs- Los Angeles FC
Cuando: Sabado 1 de Abril, 2023 a las 7:30pm
Donde: Dick's Sporting Goods Park 6000 Victory Way Commerce City, Co 80022
Costo por boletos $30. porfavor trigan el dinero a la Sra. Rosa antes del Viernes 10 de Marzo para reservar los boletos.
Si tiene preguntas llame a nuestra oficina principal al 720-424-3630
Gracias,
Personal de Swansea