Weekly Announcements I Anuncios Semanales
Posted March 15, 2023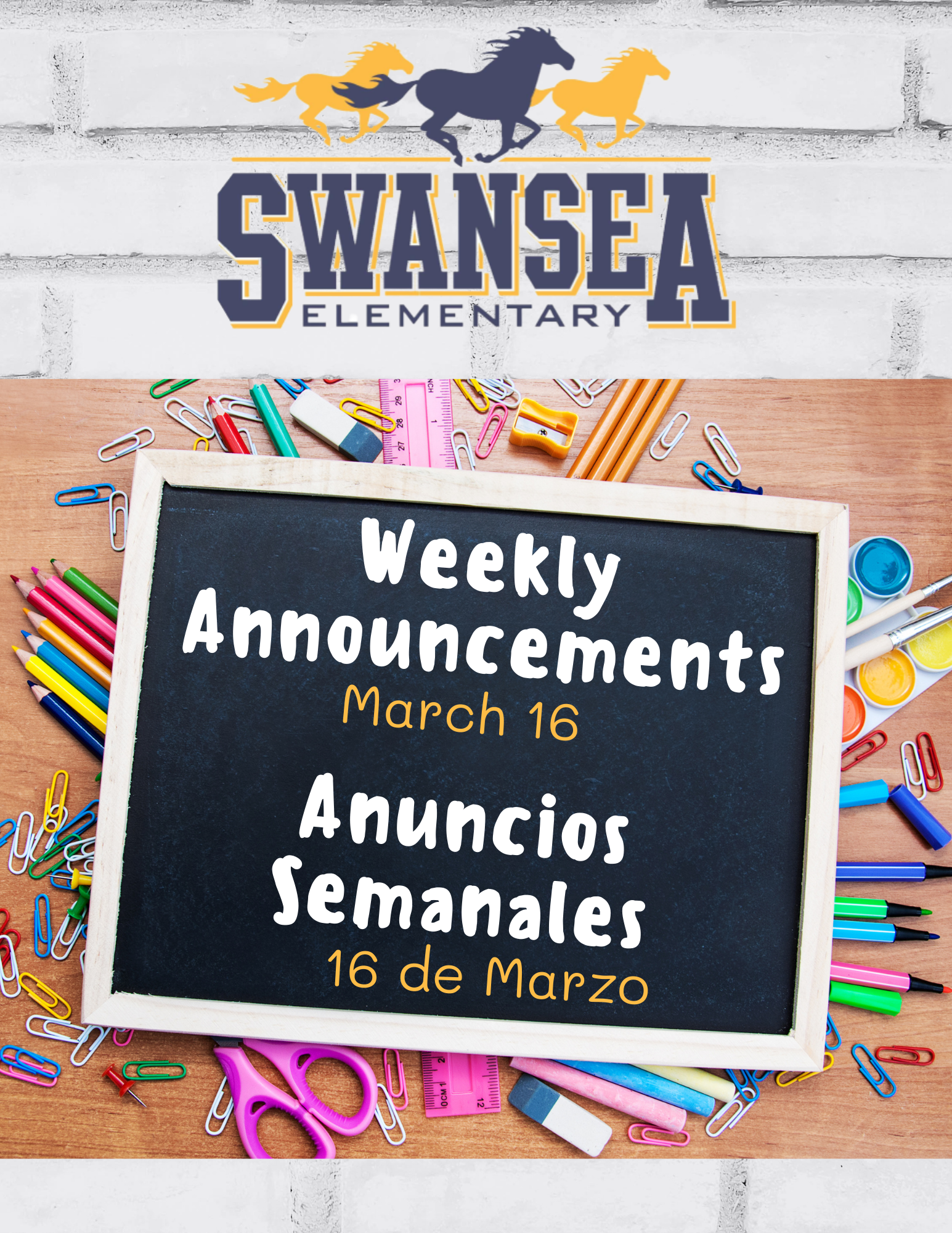 Dear Swansea Families,
Here is our Swansea weekly news:
CSU Spur World Water Day
Join us for the CSU Spur World Water day Celebration
March 22, 2023 from 4-8 p.m.
Free and Open to the public! Giveaways, free food, and fun
Water programs and activities for the whole family
Critter Identification
Water Exhibits and hands-on experiments
Rain barrel workshops in English and Spanish 4-5:30pm and 6-7:30pm. Registration required for workshop only.
Register at: www.ssuspur.org/event/csu-spur-world-water-day-celebration
CMAS Testing
Where: Swansea Elementary School
What: CMAS testing
Who: 3rd, 4th, 5th grade students
When: March 21st, 22nd, 23rd for 3rd, 4th, 5th grade
April 11th, 12th, 13th for only 5th grade students
Prizes will be raffled every day. One grand prize (Bike) will be raffled every day for every grade level
Chats with the Principal
Join us for our next Chats with the principal meeting on Thursday March 23, 2023 from 8:15am to 9:45am
If you have any questions please call our main office 720-424-3630
Thank you,
Swansea Staff
---
Estimadas familias de Swansea,
Aqui estan nuestras noticias semanales de Swansea:
CSU Spur Dia Mundial del Agua
Unase a nosotros para la celebracion del dia mundial del agua con CSU Spur.
22 de Marzo de 4-8 p.m.
Abierto al publico! Regalos, comida gratis y diversion
Programa de agua y actividades para toda la familia
Identificcion de bichos
Exhibiciones de agua y experimentos practicos
Talleres de barriles de lluvia en ingles y español a partir de las 4-5:30pm y 6-7:30p.m. Se requiere inscripcion solo para talleres.
Registrese en: www.csuspur.org/event/csu-spur-world-water-day-celebration
CMAS Testing
Donde: Escuela primaria Swansea
Que: Pruebas de CMAS
Quien: 3ro, 4to, 5to grado en Marzo 21, 22, 23
Abril 11, 12,13 solamente para el 5to grado
Sortearemos un bicicleta todos los dias para cada nivel de grado durante CMAS
Charlas con la Directora
Acompañenos a la siguente reunion de Charlas con la directora el Jueves 23 de Marzo, 2023 a las 8:15a.m.-9:45a.m.
Si tiene preguntas llame a nuestra oficina principal al 720-424-3630
Gracias,
Personal de Swansea